Raven G's Wish – 2015, San Antonio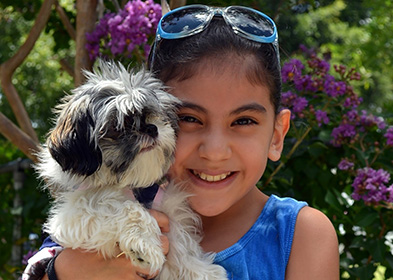 Raven's Wish was a trip to Disney World with her two sisters and parents. The Wish Connection-San Antonio provided her a Wish with a little extra magic. 
The wish kicked off with a party at San Antonio's brand new Children's Museum, The DoSeum.  Raven was met by FOX News Anchor Evy Ramos for a family interview, followed by the unveiling of her wish.  She first received tickets to Disney World for three days, tickets to a new waterpark for a day, and luggage for traveling.   Each child was given backpacks to carry their own special items.  The DoSeum presented the kids with gift bags full of fun items to keep their minds working while traveling.  When traveling with new luggage, you should never travel without new clothes.  The Children's Place presented Raven with a private shopping spree for 90 minutes at the North Star Mall – San Antonio store!  The shopping spree included champagne glasses with apple cider, sweets, and a dressing room area set up as a modeling runway. 
To top it off, Raven and her family had limousine service to and from the airport in Orlando and San Antonio.  Upon arriving in Orlando, she and her sisters were greeted by the AT&T Pioneers with banners and gifts.  The family stayed at the WestGate Resort in Orlando and ate at the Saana Restaurant at Disney World Animal Kingdom.  The magic didn't end when Raven arrived backed home.  While she and her family were at Disney World, the San Antonio Wish Connection team, with support from Rooms To Go, did a complete bedroom makeover! Hardwood floors, bunk beds, desk, closet, dresser, and flat screen TV, along with a Star Wars theme (bed spread, light sabers on the wall, and more)!