Jazline & Jazmine G's Wish – 2015, Dallas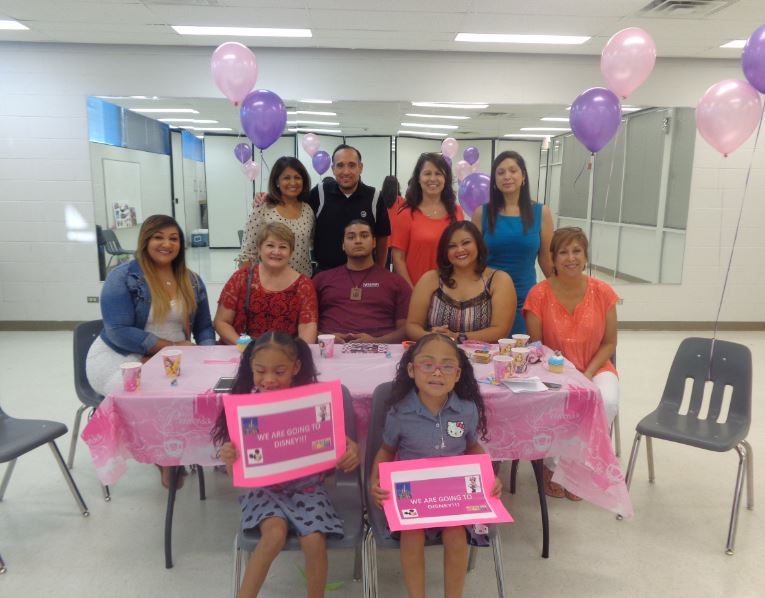 Have you ever dreamed of being a Princess? Let's be honest, what girl hasn't? Well, just because you were not born into a royal family does not mean that you cannot be a Princess.  Princesses are defined by their charming personalities, loving hearts, and their beauty. Our twin Princesses, Jazline and Jazmine, certainly display those characteristics.  Like most  Princesses, they love jewelry, pink and purple girly things, swimming, carnival rides and music.  Jazline displayed her royal talent by shyly singing, for the The Wish Connection team, Mexican vocalist Vicente Fernandez's "Volver, volver". Our Princesses reside with their Mom and royal family that includes their grandparents and an aunt and uncle in Garland, TX.
On Wednesday, August 12, the Wish Team hosted a wish reveal party for the Jazline and Jazmine and their family members at Holford Recreation Center. Their wish experiences include swimming lessons at Aqua Fit Froggies, a three month gift certificate for the Sense-able Gym, a weekend getaway to San Antonio to explore Sea World and Morgan's Wonderland, a second weekend getaway to Great Wolf Lodge along with some princess pampering for the girls consisting of a manicure and a pedicure, and finally they were presented with a storybook created from pictures from the initial family interview. Just when it couldn't get any better they told they would also be going to Walt Disney World to see the princesses which they love to read about. It was a fun filled and emotional day and the joy in the girls' eyes made all the work the team has done pay off. Thank you to all of our generous contributors, Wish Team Members and HACEMOS  for waving your magic wands and making thier dreams come true. Check back for photos from their adventures as they happen.