Patrick C's Wish – 2011, San Antonio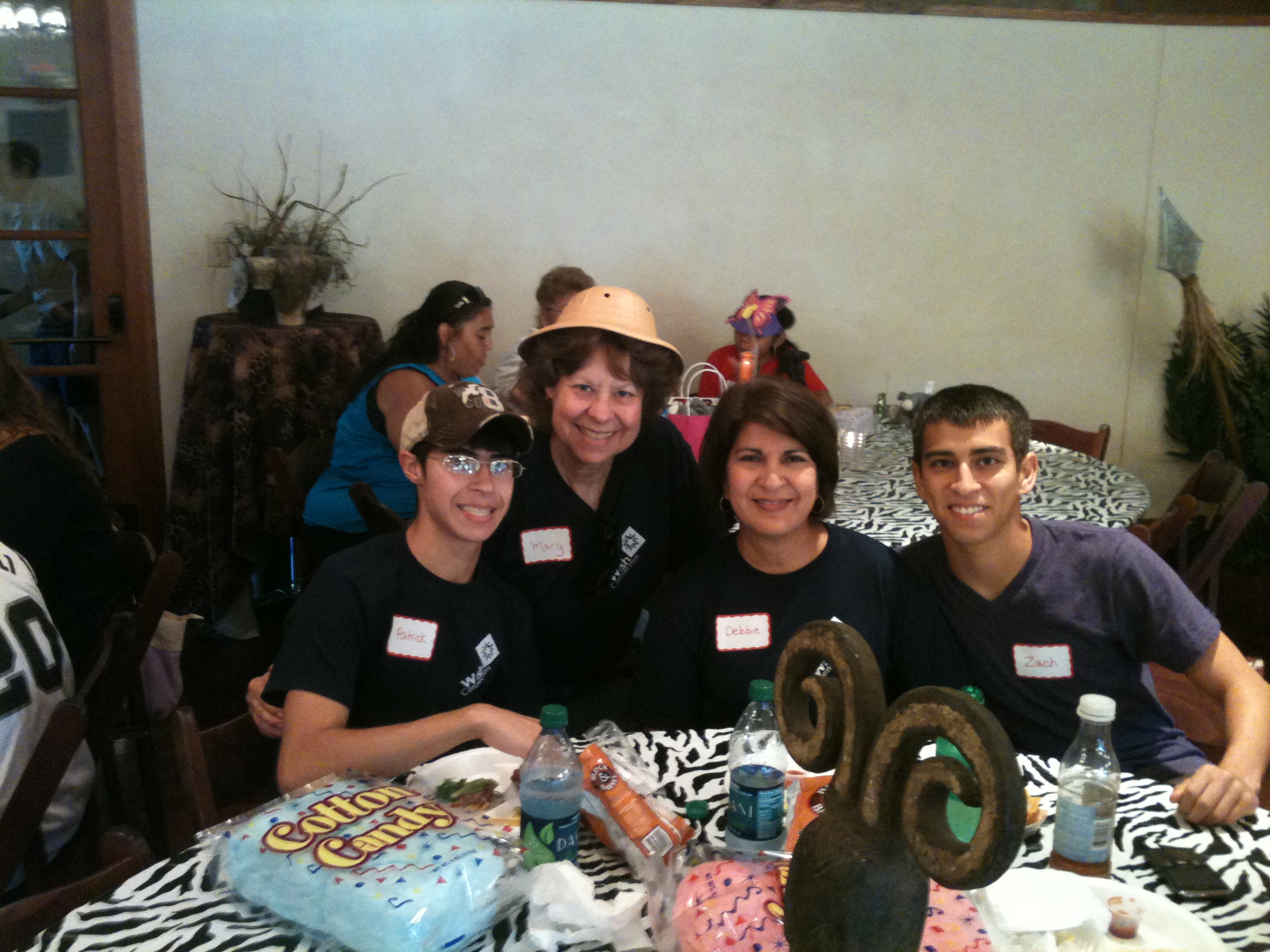 Since birth Patrick has had a heart condition which limited his physical activities.  Maybe that is why he is such an amazing artist.  His sketches are fantastic.  When Diane Rodriguez and Mary Key visited the family to find out Patrick's wish, they presented Patrick with art supplies.  He could not stop smiling.
Patrick's wish was to meet Tim Duncan, No 21 of the San Antonio SPURS.  Rick Hubbard's mentoring team gave him an incredible Wish experience.  They worked hard so that everything was ready for the weekend of January 8-9.  However, on Saturday, January 8, Joshua (Patrick's oldest brother) woke up with whelps and passed out and his dad had to rush him to the Emergency Room.  Everything turned out well and soon Patrick, mom, Joshua and a friend were on their way.  The stretch limo picked them up around 11am.  A welcoming committee with balloons met them at the Marriott Riverwalk.  When they checked in, they got a surprise.  The hotel had a surprise basket of goodies waiting for them in their double room.  Then the limo whisked them to the Army All American High School Football game at the Alamo Dome.
After the game they met up with Dad and brother Zachery to have a scrumptious dinner of steak and lobster at the Tower of the Americas where they also experienced a bird's eye view of San Antonio.  They were also treated to a spectacular lightening display.  It was raining hard when they left so that had to take a taxi back to the Marriott.
The next morning they had time to venture out and get some family pictures taken by our photographer who spent the day with them taking pictures.  At 4:00 pm the limo dropped the family and two friends (plus our photographer Tonya Hill) off at the AT&T Center.  They were greeted by the Wish Team consisting of Rick Hubbard, Diane Rodriguez and daughter, Sandra Vetter and her nephew, Charmaine Williams and daughter, Mary Key and her son.  LaKisha Sheppard arrived a little later.  A contact of the SPURS met us and escorted us up to the AT&T suite.  The WISH family and Rick Hubbard then went to courtside to watch Tim Duncan and the other SPURS practice.  Amazingly, Tim Duncan even came over to talk with Patrick and autographed the SPURS jersey given to Patrick as well as the hat that Patrick and his father each were wearing.  Tim also posed for pictures with Patrick.  As Tim Duncan walked away, Tony Parker, No. 9, came over and talked with Patrick and his family and he signed the hat that Patrick was wearing.  Manu Ginobili came out to practice and the usher took Patrick's hat to him for his autograph.  Patrick's hat was signed by the San Antonio Spurs "Big 3."   The excitement wasn't over.   Patrick was named co-captain for the game and went out to center court where he was introduced to the area and shook hands with Tony Parker and Tim Duncan as well as the two captains from the Minnesota Timberwolves.  Patrick, his dad and brothers got to do the Fantastic Fan experience where they received t-shirts and were the honor guard when the SPURS took to the court.  Patrick was so happy that he told his mom that his cheeks were cramping from smiling so much.
During the second quarter of the game, the Coyote visited Patrick, his family, and the Wish Team in the AT&T box seats.  Patrick received more gifts during half-time.  The Wish Connection team gave him his very own laptop, more artist supplies, and SPURS collectibles.
The SPURS also gave us the thrill of victory.  It was a close exciting game, but they won.  The family was then taken by limo back to their home.  What an exciting weekend!!!
We still have more surprises for Patrick.  His favorite restaurant is El Chaparral and he and his family will be treated to a special dinner.  We will also present him with a photo journal of the exciting weekend including a surprise from our photographer, Tonya Hill.