Mason P's Wish – 2014, California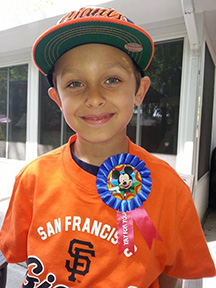 Mason is a 7-year old who loves Disney.  Since the day he was born he has had an incredibly unique journey. In the last year he has been through five surgeries and extensive physical therapy for a chronically-debilitating medical condition that impacts his mobility and vision.
In spite of this he has stayed motivated because he wanted to be able to walk and run through Disneyland or Disney World.  Mason's Wish Team arranged for him to go to Disney World and Universal Studios for one week.  He had so much fun going on all the rides and hanging out in the seven pools at the resort.  Mason also loves the 49ers and Star Wars.  When he returned from his trip, the Team arranged for Mason to visit Lucas Studios where he had a great day with a tour of the facility and got to see how all the movies are made.  Lucas Studios created a VIP tour just for Mason and his brother and they loved it.  
Last but certainly not least, the San Francisco 49ers had Mason as one of their Youth Champions and gave him the VIP experience at the 49er vs the Cardinals football game!