Lucy L's Wish – 2016, California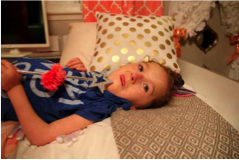 Lucy is a beautiful young lady who loves fashion, princesses and sparkles.  Lucy's wish was to have a special vacation with her family in Disneyland.  She also wished to have a room makeover so she could share a room with her older sister.  To make her wishes come true The Wish Connection partnered with Rooms of Hope.
Lucy's wish kicked off with a sendoff party from her Wish Team at her home  It was at the party that we shared the exciting news with Lucy and her brother and sister that they would be headed to Disneyland.
Once at Disneyland the Wish Team had set up some exciting experiences.  First the family was met at their hotel by a welcoming committee consisting of members of the Employee Resource Group oxyGEN.  Next there was an appointment at Bibbidi Bobbidi Boutique to help Princess Lucy's "sparkle" shine through.  There was a special private meet and greet with Princesses Elsa and Anna from Frozen.   Of course there were some character dining experiences included as well with a breakfast with Mickey and Friends and lunch at Ariel's Grotto.
While the family was away on vacation, Lucy's Wish Team partnered with an amazing organization Rooms of Hope to complete room makeovers for both Lucy and her sister to share a room as well as Lucy's brothers room.
Thanks to the AT&T Employee Resource Group oxyGen and Rooms of Hope for helping make Lucy's wish come true.