Kailyn M's Wish – 2014, San Antonio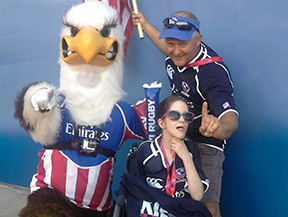 Kailyn's weekend was "animal" themed as she wants to be a dog trainer when she grows up.
The weekend was magical. Kailyn and family drove to Houston where they stayed at the Hilton Hotel of the Americas. The AT&T Pioneers hosted a small reception for the family.
The next day was incredibly busy with the family visiting:  Cockrell Butterfly Center located in the Houston Museum of Natural Science, The Bodegas Taco Shop, The Houston Aquarium and were VIP guests of the US Rugby Team as US played Australia.
After such a busy day, the following was a little more laid back with the family visiting The Houston Zoo.
At each venue, the family was greeted by a personal guide who took them behind the scene to see what really goes on including feeding the animals, answering questions and getting up-close and personal with them.
While the family was away enjoying their time in Houston, Kailyn's Wish Team was busy with a full room makeover including freshly painted walls, floor and ceiling, a closet organization system, moving in new bedroom furniture including all new mattresses, bedding, curtains, pillows and decorative pillows and to top it off a 32" flat screen TV, VHS-DVD player and Nokia tablet.
The family returned home to a Wish Connection welcome home party and room unveiling!
Kailyn's wish was successful because of the wide network of wonderful companies who willingly donated their goods, services, and time to this wonderful girl and her family. A great time was had by all – memories to last a lifetime and new friends to our Wish Connection Family.