Jack K's Wish – 2016, San Antonio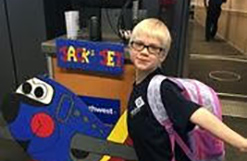 The Wish Team learned Jack wanted to meet his favorite characters: Daniel Tiger, Princess Sofia and Jake & the Neverland Pirates.  The team started creating magic and memories.
Jack's wish started with a wonderful lunch at Acenar Restaurant, followed by a reveal party where Jack played games against attendees.
 The prizes were items that he needed to make his wish come true, including Disney tickets, hotel, airfare, limo ride, Action Cam, toys and much more. The fun continued as the family went to the DoSeum, the new children's museum in downtown San Antonio, then they were off to the Hilton Palacio del Rio.  The Hilton had arranged for a very special guest, none other than Daniel Tiger!!!
On Sunday morning the San Antonio Park Rangers were waiting for Jack in a river boat to escort him on a tour of the river walk and to the boat entrance of the Tobin Center.  The Tobin Center and The Brad Simon Organization had arranged for a personal VIP Meet and Greet with Daniel Tiger and the cast.  Jollyville Sertoma partnered with The Wish Connection to fly Jack's family to Disney World on Southwest Airlines. Upon arrival in Orlando, FL, Jack was met by representatives of Give Kids the World and AT&T Pioneers.  They swept him away for a week's stay at the magical resort.  He was provided with tickets to Disney World and Universal Studios.
Part two of Jack's wish came true when he got to meet Princess Sofia at a special Princess Luncheon at Disney World. On the last day of Jack's Disney stay he finally met Jake and the gang. Jack's dad told us that his son was so excited to meet Jake that he would not let go and Jack's hug with Jake lasted forever. Jack had everything he wished for, but the wish team wanted to allow Jack to keep living the adventure.  He had one more revelation awaiting him at home. Elliot Construction and the wish team were able to provide a private play house that would bestow upon Jack and Maggie years of adventures. When we asked Jack if his wish came true, he said it was everything he imagined!!!