Esmeralda G's Wish – 2015, San Antonio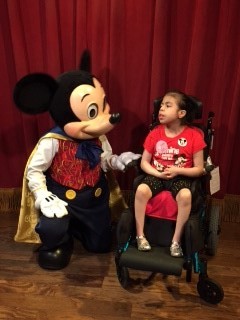 Esmeralda lives with her grandparents, aunt and three younger siblings – a brother and two sisters.  Esmeralda's nickname is "Sunshine." Sunshine's wish had a delightful start when she and her family joined The Wish Connection members at Grimaldi's Pizzeria to enjoy a delightful bon voyage party!  Each of the children received a Disney backpack filled to the brim with marvelous goodies.
The following day they experienced a limo ride to the airport by Elegant Limousine & Charter, and greeted by Southwest Airlines, friends and family, and AT&T Pioneer and Wish Connection members. They were then flown to Orlando, FL for a Disney World adventure.  For most of them it was their very first time to fly!  When they landed, they saw many AT&T employees (Pioneers) who welcomed them with open arms and helped guide them to their shuttle.  They were off to Give Kids The World (GKTW) Village.  GKTW played the most gracious host to Sunshine and her family. What a surprise they had when they arrived.  They received tickets for three days to Walt Disney World (Magic Kingdom, Disney's Animal Kingdom, Hollywood Studios and Epcot).  They also received tickets for two days to Universal Orlando Studios and one day at SeaWorld.  How fantastic! They were well-taken care of and catered to each and every day of their stay.  They were truly treated like VIPs! Wow, they experienced an adventure of a lifetime and magical memories made at Disney World!
The Wish Connection welcomed Sunshine and her family back to San Antonio where they enjoyed another limo ride home.  Everyone was exhausted from their trip of a lifetime, but happy and in good spirits.