Colten's Wish, 2018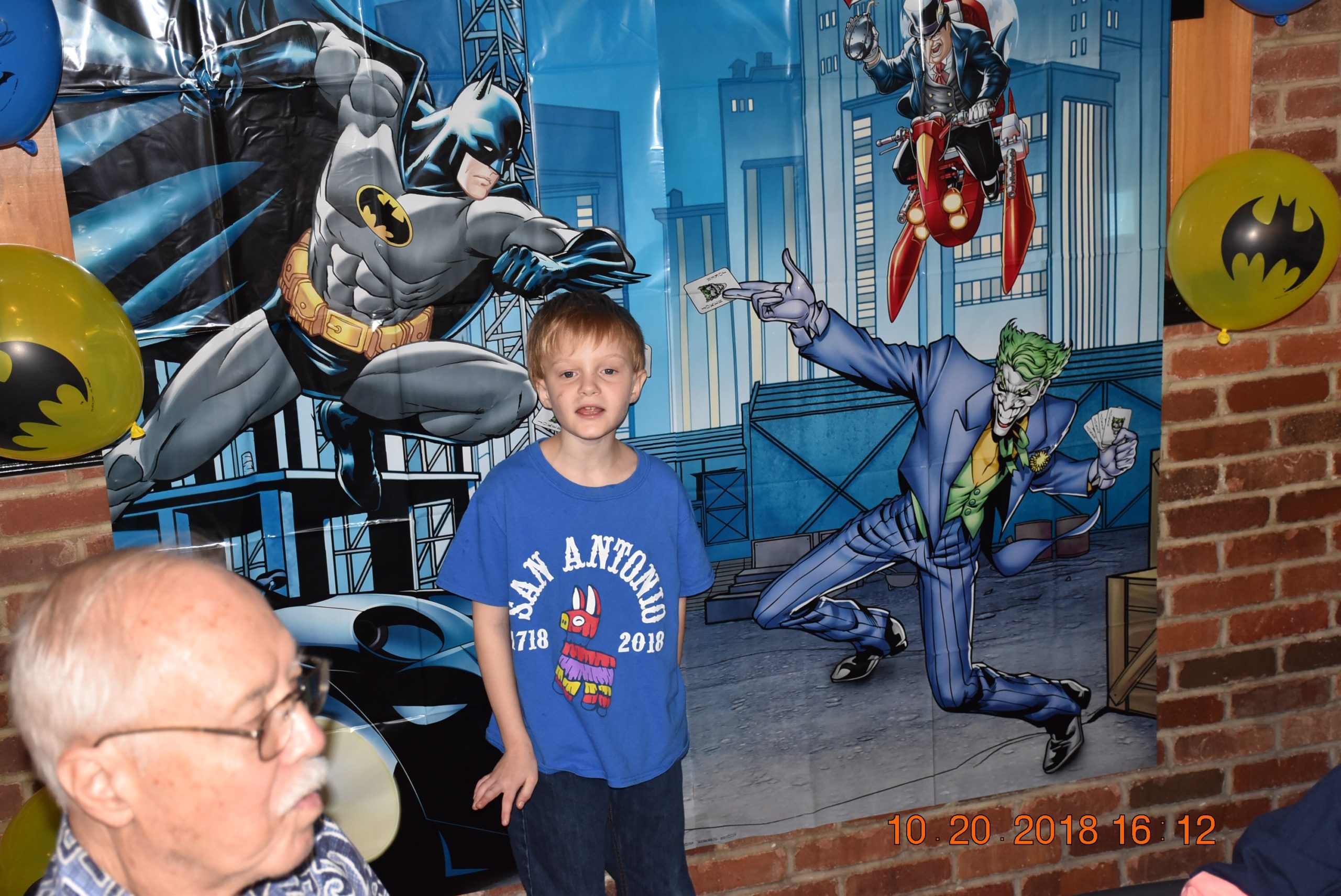 We met Colten and his grandparents at his home. He does go to school and also has a speech therapist who comes to his home. We had an opportunity to grant a wish to Colten Weiss, a precious 9-year old child with a chronically-debilitating condition. It was our wish to bring smiles and joy to Colten through the granting of his wish. His day-to-day challenges can be overwhelming at times; yet, he remains a child with a smile on his face and a twinkle in his eyes. The whole family experience was vital to the quality of his wish, and to the comfort and healing that a wish can bring to the entire family.
In October 2018, Colten and his grandparents were hosted by WISH Connection members to a Bon Voyage party at Grimaldi's Pizzeria which was decorated with Batman posters, plates, napkins and party favors. All enjoyed pizza and salad to their heart's content. We are so grateful for the support Grimaldi's did to help us grant this awesome WISH. Colten was completely mesmerized.
The very next Monday, the Wish Connection granted Colten's wish to go to Disney World in Orlando, Florida. His wish included his grandparents Katherine and Gerald who live with him. Early Monday morning, they were met outside their home by Wish Connection members and were whisked off in a luxurious limo from Elegant Limo to San Antonio International Airport to start their fabulous trip to Disney World. When they landed in Orlando, a group of AT&T Pioneers greeted them with a welcome sign, toys and balloons. Shortly after that, they rode the Disney train to a glamorous Disney Resort – the Grand Floridian. They spent several days experiencing all the exciting things Disney World has to offer including Magic Kingdom, Epcot, Hollywood Studios and the Animal Kingdom. The whole time Colten's eyes sparkled with excitement.
Next was the exciting trip back home on a Southwest Airline jet. Colten had not flown in a plane prior to this trip. When they arrived in San Antonio, they were greeted again by a limo that took them home.
After they returned from their trip, we had a welcome home gathering and a bedroom makeover waiting for Colten. He was surprised to see a new full-size platform bed with a built-in bookcase and storage, a new mattress, as well as a Batman comforter with matching pillow sham and sheets. The team organized the bedroom and closet by adding a shelving unit to house Colten's shoes and toys. This was truly a delightful end to a fabulous wish!