Caleb S' Wish – 2006, San Antonio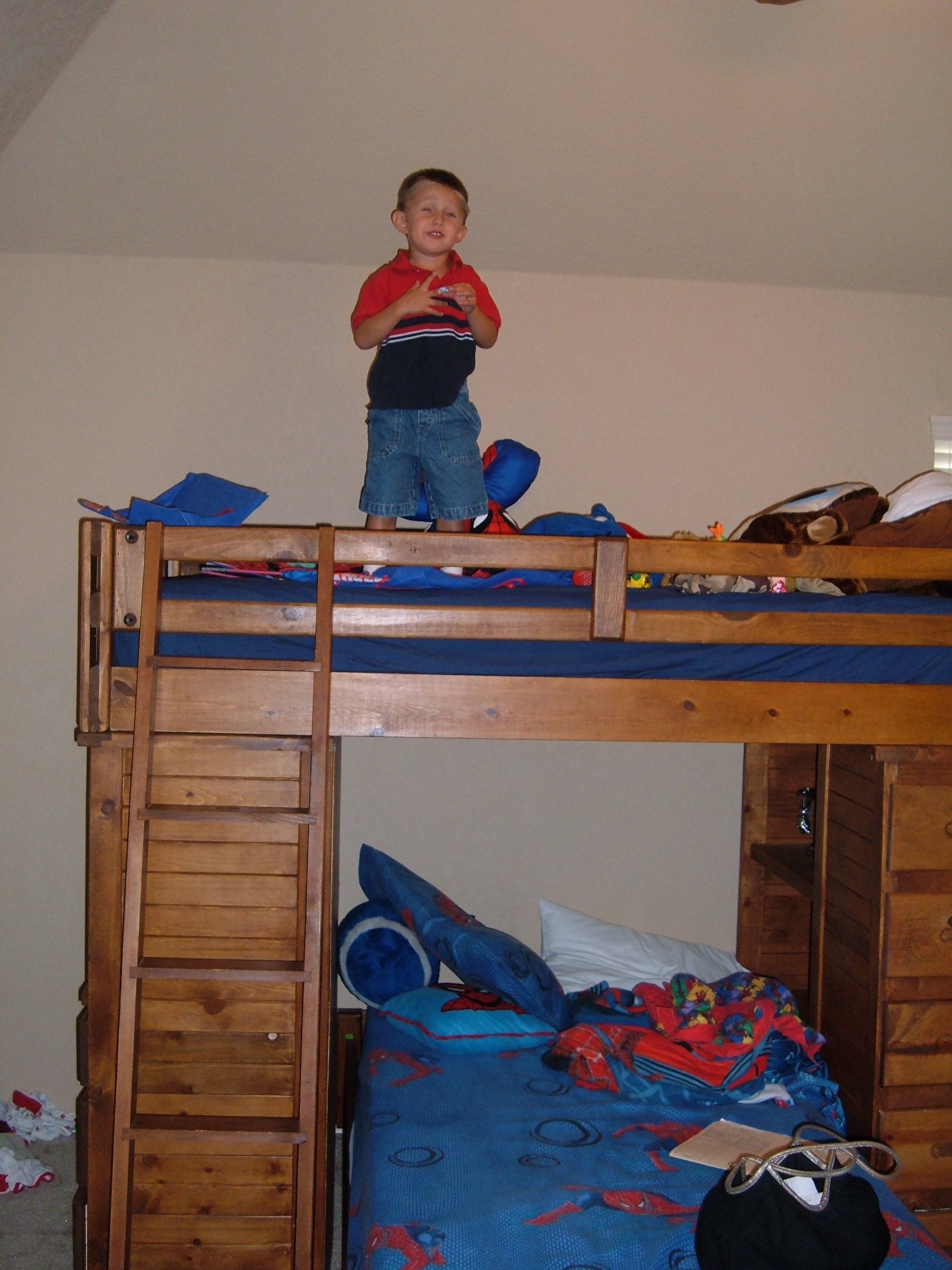 Caleb's Mom, Stephanie, best describes Caleb's wish. In her own words: "Caleb asked for his room to become a Cowboy Room. We really expected just a few pictures on the walls, maybe some curtains and bedding, but it turned out to be soooo much more. I really do not have any words to describe what our family experienced this weekend.
We left on Friday afternoon to experience our first part of Caleb's cowboy weekend. We were put in The Presidential Suite at the Hyatt!!! WOW! When we arrived at the Hyatt, the entire staff greeted us in the driveway with applause and balloons for the kids. A cowboy, Aubrey, was waiting to greet Caleb. Caleb went right to him and was his friend right away. My favorite part of this was Caleb holding a fistful of balloons and pretending he was floating away. He is not shy and made everyone laugh.
We then went to the top floor of the Hyatt and were greeted with more applause and balloons in the hallway. When we got to our suite there were chips, salsa, guacamole, potato chips, HUGE cookies, milk, chocolate covered strawberries, soda, and tons of candy in the dining room. In the Parlor were gifts for everyone in the family and a beautiful pair of leather cowboy boots for Caleb. Cowboy Aubrey was carrying his rope with him and decided he wanted Caleb to have it. What makes this gift so special is that it was Aubrey's personal rope given to him by a very famous cowboy. It has been used for practice and in rodeos. Caleb was sooo thrilled that he slept next to the rope and boots when he went to be that night. We will never forget Aubrey and how special he made Caleb feel.
When everyone left the suite it was time for us to check it out. It had a foyer, a parlor, dining room, living room, small kitchen, a balcony, 2 bedrooms, and 3 bathrooms. It was all marble, granite, and wood. Every room had fresh flowers and a huge TV. They even had the newest kids dvd's for the kids to watch. It was amazing. I kept thinking, "Now I know how Kelly Rippa must feel when she stays in hotels." We were treated to a Riverboat ride and dinner at the Rainforest Cafe. That night before bed, the doorbell rang (yes a doorbell) and there were 2 ladies standing there with the biggest banana splits ever! The kids were thrilled! The staff at the Hyatt was amazing and made our stay so comfortable. We felt like we were on vacation even though we were only 20 minutes from home.
The next day we set off for "Y Itsa Ranch" for some riding. Caleb and Abby each brought a friend. The owners of this ranch were so kind and generous… It was a beautiful ranch. They greeted us with the largest horse and the smallest horse of the farm. Just the most gentle animals ever. The kids also got to meet and ride a horse that just gave birth 4 months ago.
After some riding we took a break and had the most beautiful cowboy cake ever. It was so detailed! I have to mention that it was also the most delicious cake ever! Again there were gifts for Caleb and Abby. Then we got to see lots of turtle and some miniature horses and ponies. Then there was more riding. Our 3 kids slept the whole way home. We had a fantastic time and plan on being regulars at the Ranch.
Upon arriving home we noticed balloons and a big Moon Bounce in our backyard. We were greeted by a yard full of Wish Granters and friends. There were decorations and food galore. Caleb and Abby opened more gifts. It was so nice of everyone to include Abby in everything. Caleb got a pair of real spurs for his boots, a belt and buckle, cowboy cut Wrangler Jeans, a cowboy hat, and a George Strait button up shirt.
I didn't even have time to take pictures at the party, but I know they are out there. It was incredible and overwhelming. It is a rare occasion when I am at a loss for words, but I was for a long time. We went upstairs to see Caleb's bedroom and we were blown away!!!! They thought of every detail down to the leather piping around the duvet cover and window treatments with leather detail and murals done free hand on his walls. This room is incredible and by far the best room in our house now! Caleb loves it so much and doesn't want to leave his room…we have all been spending lots of time in there today. Every time I think I have seen everything in the room, I am surprised by another thoughtful detail."