Ani K's Wish – 2015, California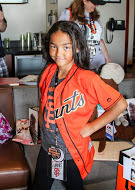 Ani loves Buster Posey from the San Francisco Giants, drawing "My Little Pony" characters and Lego's, among other things.  Ani's wish team was able to surprise this wonderful young lady with three different adventures to make her wishes come true. 
Ani's wish started out by sending her and several friends to a Giants game where they were sent on a scavenger hunt through AT&T Park that included finding the Peanuts statues and taking their picture with a full-size Buster Posey Lego statue.  The scavenger hunt ended with Ani and her friends enjoying a Giants game in a suite filled with lots of gifts including a Buster Posey jersey, signed baseball, lots of food and a visit from Giants mascot Lou Seal. 
Soon after game day Ani's wish team threw her a "My Little Pony" themed 9th birthday party for her and her friends at a local ice skating rink.  It was at the party where Ani's 3rd adventure was revealed.   Ani and her family were going to fly to Southern California and enjoy a fun-filled trip to LEGOLAND California where they stayed in the LEGOLAND Hotel and enjoyed all the fun LEGOLAND has to offer (including a really amazing swimming pool at the hotel).